Ministries in Brazil and India send their thanks for Regular Baptist Press Sunday School curriculum.
A church planter in India needs a motorbike for traveling to ministries.
Following an Easter service, churches in Ghana are getting ready for Vacation Bible School and are praying for 4,000 students to attend.
Christian Wei of China asks people to pray for pastors and leaders of house churches.
Faith Baptist Church Association in south India held Vacation Bible School for hundreds of children.
Joshua Masaba, president of Eastern Uganda Baptist Association, thanks donors for financial assistance to relieve the Kayango community from famine.
Bible training in Haiti is enabling new pastors to preach doctrinally sound sermons.
An annual Bible camp at a church in Myanmar taught people about the Bible, salvation, and the Baptist faith.
An association of churches in Africa has joined the International Partnership of Fundamental Baptist Ministries and recently baptized 50 people.
The Lord is working in Kenya, says Cyrus Wanyonyi of Good Soil Baptist Churches International.
Plan now to attend the international luncheon on Thursday, June 27 during the 2019 GARBC Conference.
In Togo, West Africa, eight pastors were ordained to the gospel ministry.
The New Life Regular Baptist Society in India has translated Regular Baptist Press Sunday School materials for the Primary Department into Telegu.
This fund is established to encourage and assist in church planting among IPFBM partners.  These funds are used to assist with land, buildings, supplies, or …
The International Partnership connects associations of independent Baptist church associations around the world. When associations apply for membership, Director Chris Hindal must make a visit …
A church in Baltimore, Maryland, thanks Regular Baptist Press International for Sunday School materials.
Pastors and evangelists in India attended an encouraging training session in Binnakandi about sharing the gospel.
Grace Bible Church in Nigeria sends its thanks to Regular Baptist International donors who made possible the donation of Bibles.
A school in Bangladesh hosted a training event for its teachers, providing not only teaching ideas but also spiritual discipleship.
Wesley Chatla is a pastor with the Indian Christian Bethel Baptist Gospel Fellowship in Andhra Pradesh, India, and administrator of the association's school. He and …
A decade after being planted, a church in Andhra Pradesh, India, is ready to construct a building.
Wordsower International has announced that Bowed Hearts is now operating My Father's House orphanage in Port-au-Prince, Haiti.
An association in Malawi conducted Christian Education teacher training using materials from Regular Baptist Press.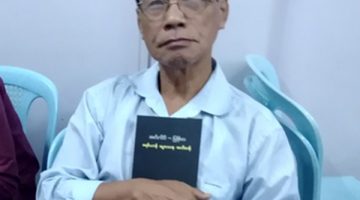 Thanks to donations sent to Regular Baptist International, the printing of English-Myanmar Theological Dictionary, a book by Mang Cin Pau, is now complete.
In China, 16 educators "were baptized in the largest baptistry in the world—the Pacific Ocean," says Christian Wei.
Chris Hindal, director of Regular Baptist International, preached at the missions conference of Temple Baptist Church, Lincoln, Nebraska.
A church has been planted in Liberia after 100 people professed Christ as Savior during an evangelism endeavor.
Women in Peru attended a retreat organized by the Peru Baptist Bible College and Church Association Feb 20–23.
Peace River Baptist Church in Punta Gorda, Florida, invited Chris Hindal to speak during its missions conference.
An association of churches in Manipur, India, rejoices over the addition of another church.
After vetting two Baptist church associations in Congo, the International Partnership of Fundamental Baptist Ministries has accepted them into the partnership.
Chris and Deb Hindal of Regular Baptist International ministered at Daniels Road Baptist Church during its annual missions conference.
A flood that devastated a region of Myanmar in 2015 recently resulted in the planting of a church.
Protests in Haiti have resulted in an orphanage's struggle to provide for the children in its care.
An association in India is holding camps to share the gospel with children.
In India, Camp En Gedi is ministering to many people through camps and retreats and expanding its facilities.
Director Chris Hindal safely returned from a fruitful trip to Northeast India, where traveled Jan. 15–29.
Christian Wei of China asks prayer for a leader in the house church movement.
A pastor in Monrovia, Liberia, praises God that the church he has been constructing was recently able to build a roof.
"The Lord tremendously blessed" ministries in Bungoma, Kenya, during 2018, says Pastor Cyrus Wanyonyi of Good Soil Baptist Churches International.
Jermi Babu Gowdiperu of India thanks Regular Baptist International for sending funds that helped purchase Telegu-language Bibles.
This Christmas, an association of churches in India planned a special holiday celebration for widows and orphans.
During the Christmas season, a church plant in India held a program to share the gospel.
A church in Thailand thanks Regular Baptist Press International for sending Sunday School curriculum.
Through a two-week evangelism endeavor in Myanmar, the Biblical School of Theology shared the gospel with 2,000 people.
The International Partnership of Fundamental Baptist Ministries welcomes two new associations to its partnership.
Missionaries in Brazil send their thanks to Regular Baptist Press International for Sunday School curriculum.
Christian Wei says "it is a cold winter indeed" in China, as celebrating Christmas has been outlawed there.
A week of events marked the 15th anniversary of New Testament Baptist Church in Liberia, West Africa.
The children in the tribal hills of Bangladesh have no electricity, no running water, no bathrooms, and a limited food supply, but none of these hardships impacts these children's certain hope in Jesus.
During a ministry in Kenya, nearly 900 people professed Christ as Savior.
Desiring to equip pastors with solid Biblical knowledge, a pastor in India is leading ministry leadership seminars in several countries.
Three Malawi churches recently conducted baptisms, baptizing a total of 36 people.
A minister in Myanmar is working to get Bibles and Christian resources in the language of the Koongsoa people.
An association in India needs money to purchase Christmas gifts for children who live in prison with their mothers.
A pastor in the Democratic Republic of the Congo plans to plant a church in the village where he recently held a gospel crusade.
Chris Hindal shared the ministry of Regular Baptist International at Union Grove Baptist Church, Union Grove, Wisconsin.
Chris Hindal presented Regular Baptist International at First Baptist Temple, Oshkosh, Wisconsin.
At a church service in Indonesia, more than 200 people professed Christ as their Savior.
One thousand people attended a Bible conference in Bangladesh, a country that one pastor calls a "spiritually needy country."
A church being constructed in Liberia needs prayers and funding to complete its roof.
Construction of a church in Liberia is underway in Liberia, West Africa.