With Myanmar's political situation not improving and COVID-19 cases increasing, Victory International School in Myanmar will start classes online in July.
Construction of K.C. Brown Primary School is currently ongoing in Liberia, but funds are needed to complete the building.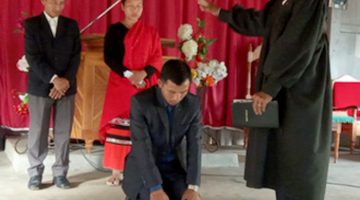 Two churches in India are thankful for the ministries of their pastors.
A ministry in India will be sharing the gospel at its Neighborhood Community Christmas Celebration, to be held in two locations.
"Ministering at Crossroads Baptist Fellowship here in East Legon, Ghana, has been a real blessing, though it's also come with much challenges," says Josiah Abedu Kennedy.
A ministry in China has the largest group of students in its history training to become Christian educators.
While visiting Nicaragua, Chris Hindal had the opportunity to interact with the leadership of CIEMBIN, an association of independent Baptist churches.
Thirty pastors and 10 wives from the island of Sulawesi, Indonesia, gathered in the city of Manado for a one-day seminar with Chris Hindal.
A record number of international guests is expected to attend the GARBC Conference, June 28—July 1, at Harvest New Beginnings in Oswego, Illinois. "If you …
"The Lord is a prayer-answering God!" says Josiah Kennedy of the Association of Fundamental Baptist Churches in Accra, Ghana. He sends a letter regarding a church recently planted in the area.
You can help build a school in Mafla Village, Bong County, Liberia, or perhaps in Grand Bassa County. But instead of just building any school, …
Uttam Tripura is the director of administration and education for the Bangladesh Tribal Association of Baptist Churches. He sends the following letter: It so painful …
Support a GARBC International Christmas Giving Project!
Two of the most anticipated events for the graduating classes of Doane Baptist Seminary were held on Friday, March 25, 2011. The first was the …
Vacation Bible School (VBS) in Sumatra this year were registered by 2.072 children and were involved more than 100 workers of Sunday School. Praise the …
September 23, 2010 Dear Friends: We are now in the peak of the rainy season in Liberia.  Yesterday morning, it rained so heavily that we …
Dear  Praying Partners, Let me take the  opportunity to write this update from my hospital bed. Yes, I am  taking a few days off at …
Help Save the Central Baptist Church Church services and school activities at the Central Baptist Church, located on the Pipeline, has come to a halt …
MYANMAR, Asia—Timothy Sui Lian Mang continues to work on his Bible translation project. Many people are now reading his Falam Chin New Testament and expressing their appreciation. "Now …
I had the privilege of meeting with a veteran church planter in Cleveland Ohio. He is reaching thousands within his community and loving them in …
A spur-of-the-moment project that we accomplished in February was helping a church plant in Florida by finding, delivering, mounting, and hooking up display monitors for …
May 2008 What a joy of mine to keep giving you good news! Last month I told you that my family and I are now …
December 2007 Merry Christmas to you, our family and friends! This year has been busy and full. Our family is so thankful for the times …