The Killorglin Baptist Church is a one year old church plant from the Tralee Baptist Church in SW Ireland.  Pastor Shawn Abrahams and his wife, Tania, are church planting missionaries from South Africa.  Irish people are very slow to believe the Gospel and experience much pressure from their Roman Catholic families.  Pastor Shawn stated, "we have benefited so much from RBP
Sunday School materials which we used in South Africa as well as both ministries here in Ireland.  I really appreciate the fact that by using the materials, the teacher not only learns great content but also a consistent hermeneutic approach to the Scripture."  The Abrahams also shared that they had been enriched as a family using RBP materials with their own children.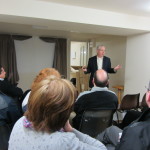 Chris and Deb Hindal met with a small group of pastors and wives and church people on Wednesday, May 1, and shared with them the outreach ministry of GLS.  That same evening, Chris spoke to the Killorglin Baptist Church prayer group opening their eyes to the fields of the world touched by the International Partnership.  The Hindals were richly blessed by the Abraham family.