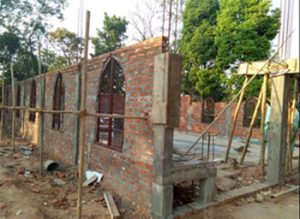 The Fellowship of Baptist Churches in Assam, India, previously requested prayer for the renovation of Alipur Baptist Church. That church, built in 1951 by Baptist Mid-Missions missionaries, now has leaks and cracks in the walls and roof. The fellowship of churches sends this report of the construction process.
The 70-year-old Alipur Baptist Church has been demolished, and a new church building construction started on Jan. 8. We have formed a church building committee, with Pastor Nabin C. Singha (president of the Fellowship of Baptist Churches) serving as chairman.
We delegated a four-member team, consisting of K. Birendra Singha (leader), Johnson Singson, Sanjay Bhattacharjee, and Monoj Das, to look after the whole construction and oversee the construction workers.
Construction work is going on in full swing as of March 16. We have received many funds to begin construction but will need $10,073.38 (US) to complete the building.