Chris and Deb Hindal arrived in Zambia on Friday evening, Oct. 12. This stop was the last during the couple's trip to visit Regular Baptist International partnering associations, as well as prospective partnering associations, in East Africa. Chris, director of Regular Baptist International, and his wife, Deb, previously visited Nairobi and Bungoma, Kenya; Uganda; Rwanda; Tanzania; and Malawi.
Joining the Hindals on their visit to Zambia were Pastor Hoi Cung and his wife, Tracy, of Myanmar. The Cungs had traveled with the Hindals to visit Malawi and were now blessed to continue the ministering with the Hindals in Zambia.
The Northern Baptist Association of Zambia gave both couples a warm welcome, including gifts and flowers and a lovely dinner in a member's home. The NBAZ owns a large mission station (more than 200 acres) near Ndola.
Built by South African missionaries who later left the country, the Fiwale Mission was gifted to the association. The property includes the Bible college—with student and staff housing as well as a large church—the association offices, a medical clinic, and a large guest house, where the Hindals and the Cungs stayed for four nights.
During the couples' stay, Fiwale Mission hosted a conference for the NBAZ. The 800 guests arrived on Thursday, with local pastors speaking Thursday and Friday. Chris taught on the church for three sessions on Saturday, and Hoi spoke that night. Chris concluded the conference on Sunday morning. That evening, NBAZ leaders met with Chris to discuss next steps in the partnership.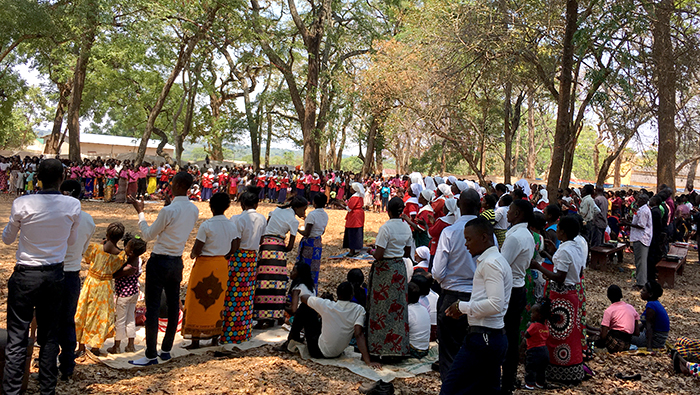 On Monday morning Chris and Deb traveled to a local church two hours away, where Chris spoke to the leaders and some members of the congregation. On Tuesday morning he spoke to the director of youth ministries, and then he and Deb traveled to the airport to begin heading home.
Chris and Deb's monthlong trip demonstrated that East African countries face multiple challenges in expanding the work of God. These challenges provide significant opportunities for North American churches to demonstrate their belief that the church is the body of Christ.