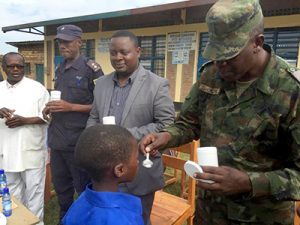 Rev. Emmanuel Ndolimana is general secretary of the Evangelical Baptist Churches of Rwanda. He writes:
We are celebrating health week in Rwanda, the activities of our recent efforts in fighting neglected tropical diseases like stomach worms (ascariasis) and other diseases related to poor hygiene in Nyabirasi, Rutsiro District. The local church has been key in sharing the love of Christ and coordinating this partnership with different institutions for sustainable health solutions that reached over 8,000 school kids in six schools and many other community
members. Thanks to Pastor Etienne Turimumahoro and Kivugiza Baptist Church, Sustainable Med, Nyabirasi Sector Leadership, the police (Rwanda National Police), and the Army (Rwanda Defense Force).
Rev. Emmanuel Ndolimana
Evangelical Baptist Churches of Rwanda
Kigali, Rwanda