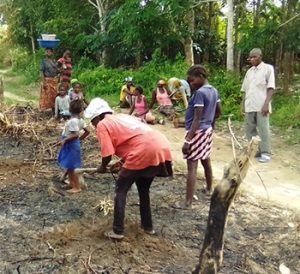 The Children's Assistance Friendship Foundation, a Regular Baptist International partnering ministry in Monrovia, Liberia, received $1,250 to begin an agricultural project that will help underwrite the cost of Christian education.
The planning process began about three weeks ago, and a 45-member workforce—30 men and 15 women—have begun the project of planting cassava on 40 acres of land.
"Cassava farming is one of the major food productions in Kpeleetayama Community, next to rice farming," says James Burnette, director of the foundation.
The school has undertaken its own cassava project together with the parent teachers association to get the communities attention and attract more students.
The produce from the project will be sold to help reduce the burdens of the teachers and to keep them focused on the school's activities.
The primary concern is to bring hope to our students. With community members working the farm, we are certain that this farm will produce 80% of the food needs of our children.
This farm will keep our children from starving, make them happy, and let them know that God is able to provide in the absent of their parents.
He also sends an update regarding the coronavirus in his community. To help stop the spread of the virus in Liberia, the government has closed schools, imposed a curfew, and issued a stay-at-home order throughout the country. "Even though the coronavirus is rapidly spreading around the globe, we are prayerful that God will deliver His people in times like these," James says. "We are also praying with you for the safety of your people."
James Burnette
Children Assistance Friendship Foundation, Inc.
Monrovia, Liberia, West Africa