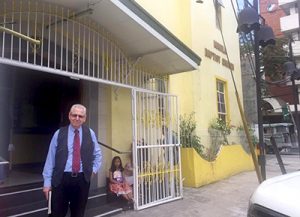 Chris Hindal, director of Regular Baptist International, had the privilege of ministering at First Baptist Church, Manila, Philippines, on Sunday, Oct. 9.
First Baptist Church was established by Dr. Raphael Thomas, a United States missionary, in 1928. He was also the founder of Doane Evangelistic Institute and Manila Evangelistic Institute.
Along with MEI, the church rented a facility until 1937, when MEI erected a building on property bought by the Association of Baptists for World Evangelism. That building, however, was destroyed during World War II, and a new church facility was built on the same site in 1951.
Today, Arleen Fidel is pastor of First Baptist Church, which holds three services—one in Tagalog, another in English, and an evening service. First Baptist has also established the Philippines Association of Baptists for World Evangelism, which sends missionaries into Asian countries.