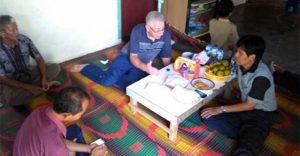 Kurdini is one of the evangelists who was sent to East Lampung, Sumatra, Indonesia, by Karunia Roh Kudas Baptist Church. East Lumpung is a unique region with high crime and fundamental Muslims; however, churches are growing. Kurdini moved to this area in September and rented a house. He has met many new contacts through his hobbies of bonsai plants and chess. Chris Hindal, director of Regular Baptist International, visited this area on his recent trip to Indonesia. Kurdini shared his desires and ministry struggles in that region.
Other church-planting endeavors are progressing in regions of Sumatra. The Gunung Sitoli church plant has acquired land and built a simple building for worship and Sunday services. They also rented a house for the pastor/church planter. Construction is slow in the Nias area due to the high cost of building materials. They plan to build a house inside the church facility for the pastor's residence. This will enable the pastor to focus on ministry.
Please pray for another province in south Sumatra called Muara Dua. Pastor Andreas Pamuji travels once a week there and is working in this area, but the need is for a full-time pastor.