In Malawi, the sixth stop of Chris and Deb Hindal's East African ministry trip, they met Pastor Hoi Cung and his wife, Tracy, of Myanmar. Pastor Hoi is a ministry partner through Regular Baptist International, of which Chris is director. Over the next two days, the two couples would visit five churches and conduct two afternoon crusades as they got acquainted with the Ntchisi Independent Baptist Churches Association.
The Hindals previously stopped in Nairobi and Bungoma, Kenya; Uganda; Rwanda; and Tanzania. In Malawi, five members of the Ntchisi association's leadership team hosted the Hindals and the Cungs. Sadly, missing from the group of leaders was Pastor Laban Limbanga, chairman of the Ntchisi association, who died just six weeks before the Hindals arrived. His wife, Macdonily, along with three pastors and one school teacher, decided to continue the plans that Pastor Laban had set in order.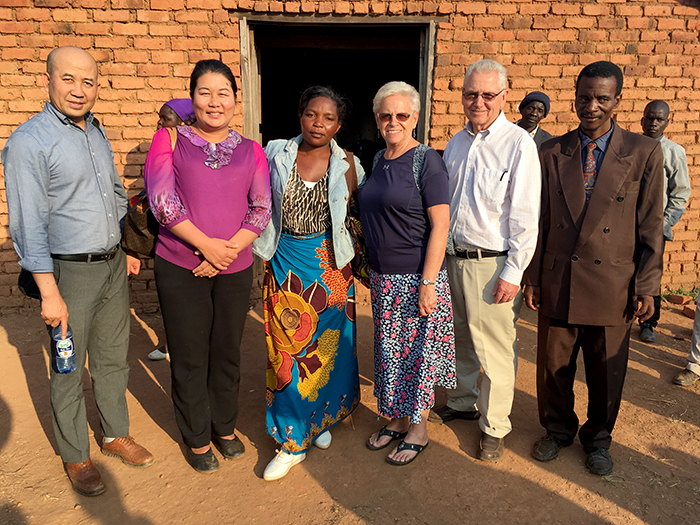 Travel in the van was difficult at best over rough African dirt roads, but the fellowship at the end of the journey was always sweet. At each church they visited, Chris and Deb met smiling people singing in beautiful African harmony.
None of the churches the Hindals visited have permanent buildings. Three of the churches have mud brick buildings with dirt floors, but the other two meet on borrowed premises. Although all of these churches face building challenges, each church's leaders plans to plant two to four churches in the next five years.
Here were churches with a church planting DNA already ingrained in them! That fact was both encouraging and challenging. Also encouraging was hearing that the leaders of an association that has 14 independent Baptist churches has asked the Ntchisi association, with 10 churches, to join them as partners of Regular Baptist International.
The Hindals and the Cungs were richly blessed by the warmth and commitment of believers in Malawi. Next the Hindals headed to Zambia.