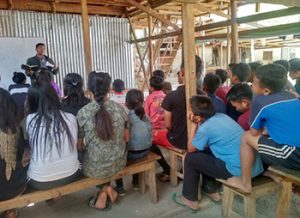 David Chhetri is executive secretary of the Fundamental Baptist Churches Fellowship of Manipur. He sends the following ministry update.
Along with our current fellowship president, Rev. T. Jamthang, I visited our association church at Gwaltabi. I preached on Saturday evening and encouraged the deacons after the service. On Sunday at noon I had the opportunity to interact with boarding students; we sang choruses together, and I shared the gospel. The visit was a great blessing.
However, on the night I left my family in the orphanage
property, a few drunkards entered the compound and disturbed my wife and the orphanage kids. We need a good fence to build, surrounding the property. I cannot go out for ministry peacefully until we have a good fence wall with bricks.
David Chhetri
Fundamental Baptist Churches Fellowship of Manipur
Manipur, India