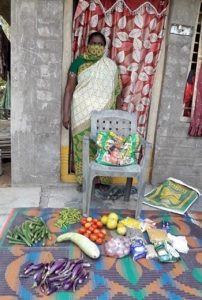 Wesley Chatla is a church planter with the Indian Christian Bethel Baptist Gospel Fellowship in Andhra Pradesh, India. His church recently gave food to people in his area who can't earn money to buy food during this pandemic. He shares the following story about how God has worked in a family's life through this distribution of food.
A woman named Mrs. Kumari called me on my WhatsApp number after she got the groceries and rice from our church staff. She was crying into the phone, saying that they haven't turned on their stove for two days. They ran out of everything and can't earn any money, since they both work in the fields, and now they can't do any work.
God is so good to us and faithful in meeting our needs through you. Her husband is not saved, and she has been praying for his salvation. I have shared with him the gospel and invited him to church many times, but he didn't come. Mrs. Kumari was saying her husband now understands the love of Christ and is willing to join with us in church along with his wife and two daughters.
Wesley Chatla
Indian Christian Bethel Baptist Gospel Fellowship
Andhra Pradesh, India
Regular Baptist International is accepting donations for a project of compassion that will provide food for people in India and Africa during this pandemic. Donate at GARBCinternational.org. Mark your gift "emergency relief."