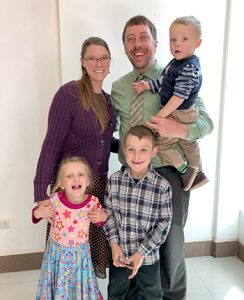 Cusco, Peru, nearing half a million people, is situated in the mountain valley at 11,000 feet above sea level. The air is dry and clear. May marks the beginning of winter, with daytime temperatures reaching 70 and nighttime temperatures dipping into the 30s. Homes do not have central heat, and during the coldest times in July, people heat rooms with space heaters.
While visiting this area of Peru, Chris Hindal, director of Regular Baptist International, and his wife, Deb, were graciously hosted by Aaron and Stephanie Cockrell, Baptist Mid-Missions missionaries.
Chris shared the ministries of Regular Baptist International with three church planting couples during their usual weekly gathering. These couples are doing outreach events in their community, following up on contacts, and leading nine evangelistic home Bible studies. The couples use an unoccupied home for their meetings but are negotiating on a key piece of property to construct a church building.
On Sunday
morning Chris preached at Calvary Baptist Church to a congregation of 125 people. Aaron Cockrell translated. That night Chris preached at Eternal Life Baptist Church, pastored by Pastor Eric Pardine. About 40 people attended.
This predominantly Roman Catholic city needs to hear the life-changing message of the gospel. Praise God for those who have answered God's call—and still there is room for many more.