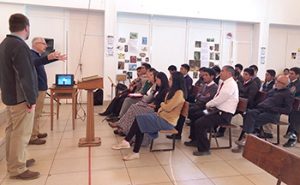 Chris and Deb Hindal arrived in the mountain region of South Peru on Monday, May 22. Until May 30 they will be visiting associations and prospective associations of Regular Baptist International, of which Chris is director.
One purpose for this trip was to visit a four-year Bible school in Urubamba, a town situated 7,000 feet above sea level. Baptist Mid-Missions operates this school, and students graduate with a Bible certificate.
Rachel Tarvin, a BMM missionary, picked up the Hindals at the Cusco airport and drove them the two hours to the campus. Along the way she stopped to show the couple a beautiful piece of property in an area that is slated to grow. The property is available at a reasonable price. Rachel and fellow missionaries expect to know in the next month whether they can buy it to construct a church building.
Aaron Cockrell, another BMM missionary, arranged for Chris and Deb to spend two days on the school's campus. The student body of 27 represents a decline in enrollment, but the students were good-spirited and welcoming. Most classes are taught during three-week modules in Spanish, and students attend an on-campus church, which a Peruvian pastor leads.
On Tuesday and Wednesday mornings Chris spoke in the school's chapel. He also met with the administrators and talked about the challenges they face. Recruiting new students is foremost in their thinking. A new boys' dorm is under construction, but the school needs $12,000 to complete it.
The Hindals also visited a children's Bible club. Regular Baptist Press International will be sending Wordless bracelets as a gospel outreach. Eight churches in the mountain region fellowship together.