When B. T. Pousiam, president of Berean Baptist Ministries in Manipur, India, visited a village in Northeast India several years ago, he found no believers in Christ and no interest in the gospel. Pousiam decided the only way to reach this area was to start a Christian school and grow a village of believers through the Christian education of children. Now Pousiam is ready to begin constructing a church building. He writes:
Please continue to pray for the project for His manifold blessings. I asked the work engineers about the building foundation and capacity; he said that this can stand for three stories. So we changed our plan a little bit. This building will now be a multipurpose building. The ground floor and first floor will be for class and administrative blocks, and the second floor will be for an auditorium hall/church.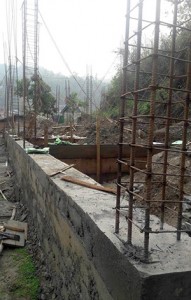 I know that this is a big project. But I trust that God will provide for the needs. I believe Proverbs 16:1–3 and Jeremiah 33:3. These are my theme verses.
This year the number of students reached 885, including 30 orphans. Praise God for increasing numbers. I can say that this is God's blessing in the ministry.
B. T. Pousiam
Berean Baptist Ministries
Noney, Manipur, India