Nang Za Thawn is pastor of Evangelical Baptist Church in Tamu, Myanmar, affiliated with the Evangelical Baptist Conference. After attending the 2018 GARBC Conference in Fishers, Indiana, he sent the following ministry update.
I am safely back home and enjoy times with my family and church. I enjoyed the Fishers conference and thank you so much for what you did for me during the conference. I am encouraged to see and know that the doctrines we the EBC churches embrace are exactly the same as that of the GARBC.
I visited five EBC churches during my stay in the States: in Indianapolis, Philadelphia, Baltimore, Fort Lauderdale, Tulsa, and a church plant in Fort Worth. This is a ninth EBC church in the United States.
Many of my people immigrated to the States due to lack of governmental weakness in my country during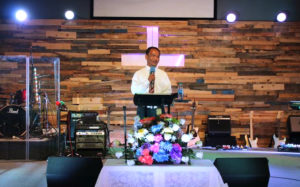 the past two or more decades. Many of them are misled to the Pentecostal movement in different parts of the United States. I am thankful to the Lord that nine EBC churches were established there to earnestly contend for the faith (Jude 3). I told them about you and GARBC, and they are happy for what you are doing in the States and other countries. They are interested in possibly joining the GARBC.
Thawn Nang Za
Evangelical Baptist Conference
Yangon, Myanmar