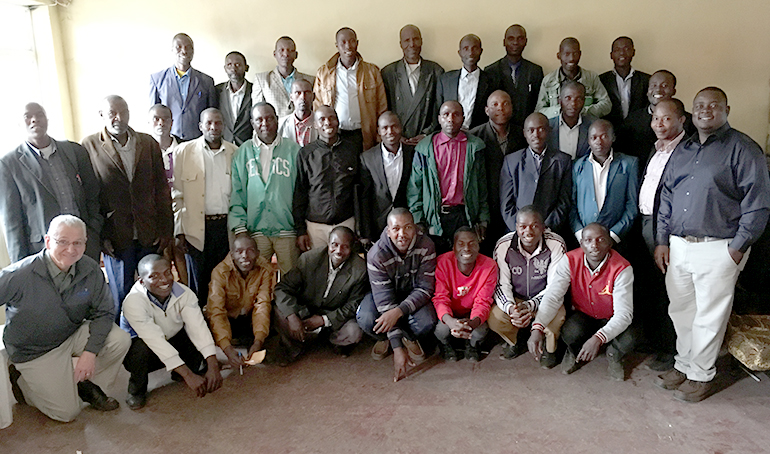 Continuing their trip through East Africa, Chris and Deb Hindal stopped in Rwanda. Chris, director of Regular Baptist International, and his wife, Deb, are spending three weeks meeting with seven partnering associations in six East African countries. The couple previously stopped in Nairobi, Kenya, Sept. 23; Bungoma, Kenya, Sept. 25; and Uganda Sept. 28.
On Monday afternoon, Oct. 1, Chris and Deb arrived at the Kigali International Airport in Rwanda. There they met Pastor Emmanuel Ndolimana, Pastor John (Emmanuel's father), and Pastor Pascal Ndagijimana. Pastors Emmanuel and Pascal are ministry partners, having planted a church together, as well as good friends and brothers-in-law. From the airport the group made the three-hour drive on winding mountain roads to the home of Pastor Emmanuel and his wife, Hope, in the Rwandan city of Gisenyi.
The next morning Chris met with five pastors from the Democratic Republic of the Congo who lead associations of independent Baptist churches. Chris shared the history, position, and purpose of the international partnership. All of the men look to Pastor Emmanuel as a leader and mentor in ministry. By the close of the interaction, all of them expressed a deep interest in leading their associations to join the partnership.
The Rwandan churches are facing an unusual and extremely challenging situation. The government is seeking to upgrade the building structures of churches. Many churches, including mosques and Catholic churches, have had to close because of poor construction or because they failed to meet new building codes that the government instated. Forty-two churches of the Evangelical Baptist Association of Rwanda (a partnering association) closed last February.
Depending on the church and its location, upgrades have required the installation of concrete interior flooring, metal framed windows and doors, glass in the windows, gutters with a water tank to catch the water, a new roof, interior painting, and at least two acres of land. A few of the churches will need to level their existing structures and build new ones. The fallout is that congregations cannot gather on Sundays. (It is against the law to meet in homes.) Churches must suspend all services until they receive a favorable final inspection. In addition, the livelihoods of pastors have been jeopardized, as they no longer receive income from their churches.
This situation is an international call for help. For many of these churches, $10,000 will meet their needs. Some will need only $1,500; some might need $50,000.
Pastors, would you be willing to lead your church over the next few months to adopt a church, maybe taking several offerings to step up and assist our brothers and sisters in Rwanda? Perhaps a couple of churches could combine their efforts to assist a church in Rwanda.
On Wednesday morning, Chris met with 33 pastors for two hours of training and encouragement, and the group enjoyed lunch together. It was good for all of them to be together. Then that afternoon the Hindals visited seven pastors at their closed church buildings to see the pastors' situations and to pray with each one. Pastors in Rwanda are seeking God and asking God's people to bring offerings with a willing heart.