Gigogwe Baptist Church in Rwanda extends its appreciation to Desert Hills Baptist Church, Albuquerque, New Mexico, pastored by Kirk Wesselink, for its financial assistance to update the church building to meet government codes. Meeting those codes will mean that the congregation can worship in its building once again.
Last year the Rwanda government imposed building criteria on all churches in Rwanda. As a result, the government closed over 800 churches in one day for not meeting standards, such as concrete flooring, metal framed windows and doors, glass in the windows, gutters with a water tank to catch water, and parking lots,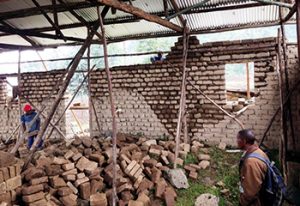 though few people drive to the churches.
Forty-two churches affiliated with the Evangelical Baptist Association of Rwanda closed last February. The churches had to suspend all services until they completed the updates and received a favorable inspection.
Last Sunday, Pastor Pascal Ndagijimana, president of the Evangelical Baptist Association of Rwanda, attended the dedication of the remodeled Gigogwe Baptist Church. He says, "I cannot fully tell you how much happy Bigogwe expressed [its] joy when we were dedicating the church building."
Gigogwe Baptist Church is now meeting officially each Sunday, although it is not fully equipped. The congregation thanks God that they can gather for services once again.
Regular Baptist International has set up an Adopt-a-Church project to help churches that are part of the Evangelical Baptist Association of Rwanda meet building codes. Donate to Adopt-a-Church, and receive information on the church that you are sponsoring.