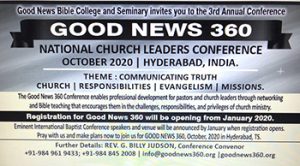 Billy Judson is the son of G. Jaya Sekhar, president of Good News Baptist Assembly in Secunderabad, Telangana, India. Billy sends the following ministry update.
I humbly request your precious prayers for Good News 360, a national conference for church leaders, to be held, Lord willing, on Oct. 20–23, 2020. This will be a follow-up event of Good News 360 in November 2016 and August 2017. Strategically, Good News 360 conferences gave us more confidence, as they helped us to witness a tremendous spiritual impact within the community.
The theme for the Good News 360 conference in 2020 is "Communicating Biblical Truth." There will be workshops on church, responsibilities, evangelism, and missions, with three days of teaching and workshops from experienced international Baptist church leaders. We will explore what it means to stand by and deliver the truth amidst of crashing wave of secularization in India.
With the decline of the missionary force in India due to visa restrictions, the Western church has been less informed about the country's challenges. The missions spotlight needs to shine on the over 900 million people in India, of which less than 4 percent are Christians. The impartation of both basic and advanced modern theological knowledge to the Christian leaders in India would aid the efficient and rapid expansion of spiritual growth of the local church.
Billy Judson
Good News Baptist Assembly
Secunderabad, Telangana, India