The second and third pastors' houses have been completed in Port-au-Prince, Haiti. This construction project is part of an ongoing collaboration between the GARBC International
Ministries, Construction for Worldwide Evangelism, and the Association of Baptists for World Evangelism to rebuild pastors' houses and churches that were destroyed in the 2010 earthquake.
Dave Manore of the ABWE project department serves as the on-site construction manager. "I am encouraged with our progress toward this year's goals," he says.
Together the team has successfully trained Haitian masons and laborers to set block by American standards, developed a good team of Haitian workers who are willing to go with Manore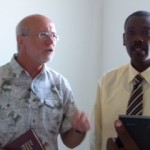 wherever construction is required, identified suppliers of quality materials for church buildings and houses, set up a good delivery system for materials, and negotiated lower transportation costs.
Construction on the next two houses will begin Aug. 31.