Following Typhoon Haiyan in November, Leoncio C. Arabelo Jr. visited churches partnering with the Association of Fundamental Baptist Churches of the Philippines, which he leads. He sends the following report:
In Ivisan, Capiz, we were greeted by Pastor and Mrs. Abner Barrios outside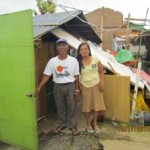 of their hurriedly built shanty that they have salvaged from the ruins of the church building and parsonage just to have something for shelter. I hugged his wife while she was saying to me in broken voice, "The Lord is good." Only a strong faith grounded on Biblical teachings can utter such words in the midst of their ruins.
In Agutayan, Cubay, San Enrique, IloIlo, we found a young couple, Pastor and Mrs. Ely Cabaya, with their 4-month-old baby trying to rebuild the
blown-away chapel while living contently in their parsonage, also affected by the typhoon. This is where the chapel once stood.
In Man-it, Passi City, Pastor and Mrs. Sellry Pioquinto and their baby were at their destroyed Sunday School building when we arrived. The back portion of their parsonage and church building were also affected.
Pastor Viane Pelingon Jr. of Stepping Stone Baptist Church, Aglalana,
Passi, is in the same condition, the church building totally blown away. The day we visited him, his youngest son was celebrating his birthday, and his only wish was to go around a mall in the city. We provided something for their celebration.
Pastor Nestor Martinez, whose grandfather (the late Tatay Biro) was brought to the Lord by Dr. Hopper of the Association of Baptists for World Evangelism, was digging a hole, hoping to find water when we came to their place. Their chapel was blown away during the typhoon; they put up a temporary gathering place for their Thanksgiving celebration.
At Madarag, San Enrique, Northern Iloilo, we found Pastor Arnold Palomar
and three other pastors (Suplico, Totica, Agpalo) working on their new chapel, as the old one was totally destroyed. Talking to them, I learned that three others' chapels and places of stay had also been destroyed during the storm. But at the moment they were helping Pastor Palomar, as the church was able to receive building materials from other believers; the three pastors were waiting for help for their buildings.
These are just some of the churches we have visited. In Panay Island alone, some 47 churches on the list given to me were affected by the typhoon. Some are in worse conditions that the ones we have reached. Yet in all of these, the workers and believers are not giving up. They have started to rebuild with the help of other churches and groups.
Rev. Leoncio C. Arabelo Jr.
Association of Fundamental Baptist Churches of the Philippines
Manila, Philippines