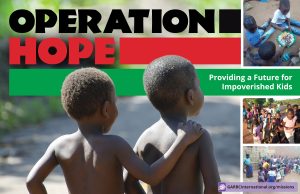 In countries like Malawi, many children have little hope. They are often hungry, and a good education is out of reach. Because these children don't have resources, they have little hope for the future.
Wouldn't it be wonderful if these kids could look forward to life being better someday? We can make a real difference, now and for eternity, for many of them—through Operation Hope!
$25 will provide food, clothing, and shoes for one child.
For $30, three kids can have Bibles of their own.
$40 will provide children's books that will help eight kids learn about people in the Bible.
For $60, a group of kids could receive two soccer balls so they can be healthy and have fun.
And $200 will provide school supplies for five children so they can prepare for a better future!
Now many kids can have what they need, and they can know that Jesus is with them. Their future can be better because you helped them through Operation Hope: Providing a Future for Impoverished Kids!