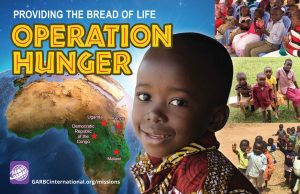 What does it feel like to be hungry—so much that you're afraid your life is in danger? Thousands of children in Kenya, Malawi, Uganda, and the Democratic Republic of the Congo know how that feels. They are hungry every day of their lives. Many don't have parents who can provide food for them, and often there is no rain to make crops grow.
Many of these children and their families are learning about Jesus! They are finding out how He can take care of their biggest need and be their eternal Savior. They are hungry in another way—hungry to find hope, guidance, and comfort in Jesus. But for that, they need God's Word, the Bible. The sad thing is that very few people in their churches own Bibles, because a Bible costs too much.
But through Operation Hunger, you can help! 
For just $3, a family could get a kilogram of early-sprouting seed, which has the best chance of growing while there is enough rain.
A gift of $6 will purchase a chicken that will provide eggs.
For $27, a family could have their own goat.
Best of all, for an offering of $12, a child can have a Bible of his or her very own!
Through Operation Hunger: Providing the Bread of Life, you can help children and their families with both kinds of hunger: food for their bodies and the kind of spiritual food that only Jesus can give!
By contributing to this project, donors acknowledge that Regular Baptist International has full authority to apply contributions designated for this project to other purposes in the event the project is canceled or oversubscribed.