ARLINGTON HEIGHTS, Ill.—As of Sept. 1, Chris and Deb Hindal have retired from Regular Baptist International as director and administrative assistant, respectively.
When they first came to Gospel Literature Services, the ministry's name at the time, they had already served as a pastor and wife for 35 years at churches in Pennsylvania, Iowa, and Florida. Chris says that serving with the international ministry was the cherry on top. Another way he puts it is that God gives the desires of the heart to those who delight in Him.
The GARBC Council of Eighteen recognized the importance of having Deb travel with Chris. She had a tremendous ministry of teaching and encouraging pastors' wives all over the world, says Daria Greening, former GARBC administrative assistant and wife of former National Representative John Greening. "She gave them great counsel and teaching from God's Word. She encouraged each one personally in their roles as wife and mother. Deb unselfishly gave of her time, energy, and safety to join Chris on international and stateside trips, often foregoing the comforts of home and familiar foods."
John Greening says of the couple, "Their willingness to travel, often to remote locations, to encourage and assist servants of the Lord, was noteworthy. They relentlessly pursued their vision for the potential of printed and digital Bible teaching and evangelistic resources. Their commitment to the potential of global partnering resulted in a robust network of churches that truly functioned for Great Commission purposes."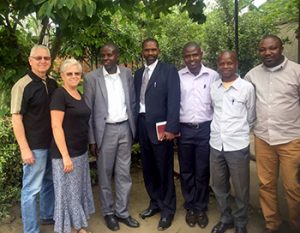 Among his responsibilities, Chris provided leadership for the International Partnership of Fundamental Baptist Ministries, as church associations from around the world joined together for cooperation and encouragement. He sat on its Council of Eight, coordinated the first All-Partners Conference, met with representatives of associations, and often preached and taught in conferences, training sessions, churches, and schools overseas. The IPFBM changed its name to Biblical Baptist Partnership International during Chris's years as director of Regular Baptist International.
Chris also coordinated the publication and/or translation of curriculum, books, and other materials. He oversaw the update of Gospel Literature Services' delivery system so that churches can receive Sunday School and VBS curriculum digitally. "These were cost cutting measures," says Chris, "but they also enabled the ministry to expand, not bound by the number of printed copies available." The translation of Kids4Truth Clubs into Mandarin Chinese began during his directorship and is nearing completion. GLS is now named Regular Baptist Press International.
Chris says that retiring from this ministry does not mean retiring from serving the Lord. "Deb and I will remain active in the local church ministry, teaching and filling pulpits as opportunities come, and remain open to some international ministries. We plan to remain in Austin, Texas, until further directed."