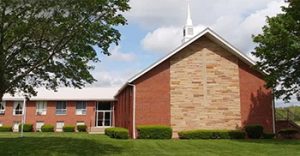 Pavilion, New York, population of 2,500, is located 35 miles southwest of Rochester in Genesee County. First Baptist Church, pastored by Sam McAllister, has an open door policy to its community. Six nights a week the gymnasium is in use, often by community groups. Pastor Sam is adamant that the church is not only the church gathered but also the church in the community. The McAllisters moved to Pavilion three years ago.
Chris Hindal visited the church on Sunday, Oct. 6. He presented Regular Baptist International, of which he is director, in the Sunday School hour and preached in the morning service. Chris told the congregation, "I want to expand your horizons to see how God is building His church around the world."
In his preaching, Chris challenged the congregation to pray for opportunities to have spiritual conversations with unsaved people. He was kindly lodged overnight in the church "prophet's chamber" and enjoyed a wonderful Sunday dinner in the McAllisters' home.