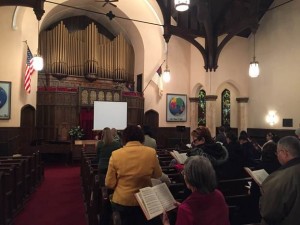 The mention of Atlantic City New Jersey conjures up images of the boardwalk, the Jersey shore and the ubiquitous casinos. Decadence expresses itself openly. Just two blocks from the boardwalk, a bold neon sign perched on top of the historic Chelsea Baptist Church reads, "Christ died for our sins." For over one hundred years this sign has marked this location as a place where the good news of the Gospel is proclaimed. On the outside the building looks like a castle. The auditorium inside with curved pews, dark oak panels and a massive pipe organ sweeps the worshipper into a former day of more formal worship.
Pastor Tom Weer has served this congregation for five years as pastor, but in the eighties he served this same church as the associate pastor. He said, "This church in some ways ministers like a city mission." Multiple people come to them with needs typical of the down and outer. With love and grace they seek to minister using the discernment required when the requests are unlimited.
Chris Hindal shared the ministry of Gospel Literature Services in the adult Sunday School class joined by the teens on Sunday, March 15, 2015. He preached in the morning worship and helped the congregation appreciate how the Lord is building His church using brothers and sisters in far off countries and very different cultures. The offering baskets showed the generosity of the people as they wanted to help in the spread of the Gospel worldwide.