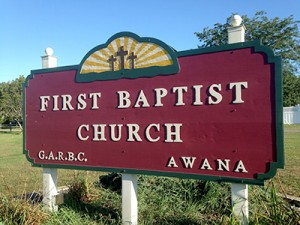 First Baptist Church in Wauseon, Ohio, led by Pastor John Shirley, will reconvene in its newly remodeled auditorium on Sunday, Sept. 14. For six weeks the congregation has met in the gymnasium while the sanctuary is being updated to give it a fresh look.
Pastor Shirley is committed to evangelism that leads to disciples. On Sunday, Sept. 7, he enthusiastically welcomed Chris and Deb Hindal to present the GARBC International Ministries, of which Chris is director, in both the Sunday School hour and morning worship service.
The Hindals appreciated a conversation with a retired missionary couple who served under Baptist Mid-Missions in Kentucky, Alaska, and Hawaii. And over dinner the Hindals spent time with Judd and Becky McClaren, missionary appointees with the Association of Baptists for World Evangelism who will leave next month for Ethiopia. The Hindals and McClarens enjoy mutual friends in Africa.
Chris says, "Even though we were only at First Baptist for one Sunday, it appears that good things are on the horizon for this pastor and people."