By Chris Hindal
My wife, Deb, and I took a four-country European survey trip spanning three weeks, May 14—June 5. This was not a trip of preaching and teaching or even holding meetings with large groups of pastors; rather, I met with individual leaders of associations one-on-one over coffee. Through our conversations I gained an understanding of the religious landscape in Europe.
In Europe, most Baptist churches are part of a convention or Baptist union. I have discovered that the word independent is suspect and that the word fundamental is more than suspect: it is downright offensive. Twenty years ago, fundamental referred to doctrinal integrity, but now it carries the baggage of Muslim fanaticism. Regular Baptist International will address this issue as it relates to the name International Partnership of Fundamental Baptist Ministries.
Our first stop was Hungary, where I met with leaders of the Hungary Baptist Union. Typically Baptist unions in Europe are doctrinally diverse, and contacts with these leaders revealed that the Hungary Baptist Union would not fit the IPFBM partnership. While we were in Hungary, Deb and I visited Word of Life and jumped in to help this ministry, spending a couple of days painting and doing maintenance. I also preached at the English-speaking church connected with Word of Life Hungary's student ministry. Students from 10 countries make up the Sunday congregation.
The next stop was Marseille, France, where ABWE missionaries Joel and Jennifer Rinderknecht graciously hosted us. Joel arranged a meeting with Steve and Rowena Barnes, who serve with Biblical Ministries Worldwide. Both Joel and Steve are part of a loose fellowship of churches and pastors that meets once a year. Steve is also part of another church fellowship. One of these associations could be interested in relating to the global network of the IPFBM.
Leaving France, Deb and I headed to Nuremberg, Germany. Baptist Mid-Missions has a long history of serving in Germany. Deb and I
were the welcomed guests of Jeff and Linda Brown, veteran BMM missionaries whom their colleagues in Germany look up to. I preached on Sunday in the church that Jeff pastors. His church is multicultural and meets in a lovely rented facility. That morning Deb and I had a wonderful conversation with a couple from South India, where we have visited. Another person attending the service was from Iran and has a Muslim background. That morning he shared his testimony with the congregation and indicated he was ready to join the church. His wife also attended the service but is unsaved. The power of the gospel is evident to those who believe.
That afternoon Jeff had arranged for a meeting with two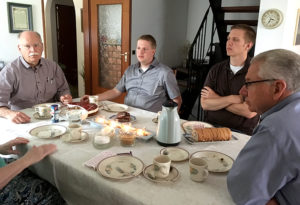 other BMM missionaries, Mark Boyd and Luke Snell. The purpose of the meeting was for me to share with them the opportunities of the IPFBM and to learn the challenges they face in ministry. While these two men don't have an association of churches, they certainly share the burden of the global harvest. It was great to observe their passion for community involvement in reaching the lost.
The final leg of the journey took Deb and me to Lisbon, Portugal. Our oldest daughter and her family have lived in Portugal for two years and are transitioning back to the States; we were glad to visit them before their return. I also met with Jon Rust, a veteran missionary to Portugal, and Pastor Carlos Martins, president of the association of Baptist churches in the Lisbon area. Martins was intrigued by the concept of an international partnership and would like to pursue his association's possible involvement. On Sunday I presented the IPFBM concept to the local Baptist church in Ramada. Praise God for these beacons of light. The congregation reflected the magnitude of the Portuguese-speaking immigrants from Asia and Africa who have made their way to Portugal in search of better opportunities. I love ministering in churches that remind me that the Bride of Christ spans the globe and every culture.
Our missionaries in Europe need prayer and perseverance. Though the majority of Europeans claim to be Christians, it appears that those who follow Biblical Christianity make up less than 1 percent of the population. In addition, many of those claiming to be Christians follow Catholicism, but in actuality that religion is merely their family roots. The need for the gospel is great, but the harvest is slow in coming. One national pastor, for example, worked for 10 years before he conducted his first baptism. I was encouraged, however, as I spoke in churches ranging from 75 to 100 people in attendance on Sunday morning; the atmosphere was alive, and the people were friendly.
Deb and I gained friends in Europe. Potentially the IPFBM could establish partnerships with one association in Portugal and one in southern France. In the minds of Europeans, they simply do not need anything, but I have a friend who says, "You don't know what you don't know." That is a horrible, tragic condition when it relates to one's eternal destiny. The need for the gospel in Europe is great.
Chris Hindal is director of Regular Baptist International.