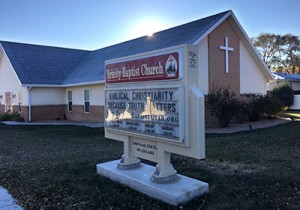 In the southwest quarter of Salt Lake City, Trinity Baptist Church stands as a beacon of truth in an area that is 90 percent Mormon. Pastor Lloyd Larkin graduated from Baptist Bible Seminary in 1970. Joining Baptist Mid-Missions, he and his wife, Marty, raised support and moved to Utah, where they have spent their lives modeling Jesus' love and declaring the truth of God's Word.
In the providence of God, Chris Hindal, director of Regular Baptist International, spoke on Sunday, Nov. 22, marking the church's milestone of being debt-free.
After relocating to temporary locations four times, Trinity Baptist Church built its own facility in Riverton, Utah, in 2002. Many churches, individuals, and ministries helped make it possible. Regular Baptist Builders Club gave the church a $15,000 grant. Baptist Mid-Missions loaned the church $80,000. Gospel Literature Services has supplied Sunday School and VBS curriculum to the mission work.
On Nov. 22, the congregation gave thanks to God for enabling them to pay off the loan and be debt free. Larkin led the ceremony to "dump the debt." In addition, Hindal shared the ministry of Gospel Literature Services in the Sunday School hour, and then in the worship service challenged the church in its Great Commission assignment.
Praise God for this Regular Baptist church that intentionally raises the banner of the cross in an area saturated by the mixed and distorted message of the Mormon church.