Alabang Resource Center in Manila, Philippines, has been training
local pastors since 1997. Bonnie O'Connor, a missionary to the Philippines and a member of Independent Baptist Church, Towanda, Pa., began the center in February of that year. Her pastor, Donn Hauser, explained to Keystone Baptist, the newsletter of the Pennsylvania Association of Regular Baptist Churches, that Bonnie began Alabang Resource Center after "seeing the lack of available resources for most Filipino pastors."
He says, "The Center was a place where pastors could come to spend time studying God's Word and to make use of some good study resources to which they otherwise would not
have access. However, it soon became obvious that the Resource Center could also be instrumental in further training through seminars, workshops, and refresher courses."
Since ARC's inception, Gospel Literature Services has been sending materials that the center's patrons, particularly pastors, use for studying and attending classes.
Jean de Jesus of ARC says the latest seminar was well-received and that churches "really adapted" its content into their ministries. Many attendees, he says, expressed appreciation for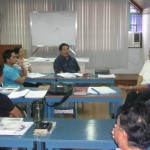 the center's efforts.
"I would like to thank everyone for praying," he says. "Thank you for being our partners in prayers and for your financial support without which the ARC ministry won't go on."
Ministries around the world are able to train church leaders and reach people with the gospel through resources sent by Gospel Literature Services. Those shipments wouldn't be possible without the financial support of believers. Join GLS's Formula 300, a team of 300 members who will rise up and stand by GLS to accomplish its number-one goal—getting Regular Baptist Sunday School curriculum to national churches around the globe.