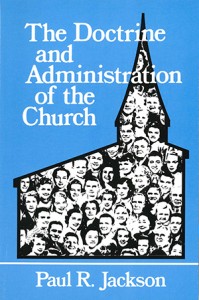 Prasad Sakile ministers with the New Life Regular Baptist Society in Andhra Pradesh, India. He has been translating Dr. Paul Jackson's book The Doctrine and Administration of the Church (Regular Baptist Press) into Telegu. (Read about his translation work in "Training Indian Pastors to Organize Baptist Churches.") Sakile sends the following update.

Thanks for your prayers and kind vision for ministry in India. By the grace of God, we have finished the translation work of Dr. Jackson's book in time. I praise the Lord for His grace upon us during our work. I thank you for your prayers for this effective work. And also I thank our translation team for their hard work to complete this work in time. I am so thankful to our Lord for giving me this opportunity to strengthen the Telugu-speaking leaders and join them in our association. My target is to explain our doctrine and train them in church management in a proper way with our fundamentals.
The next requirement in our translation project is printing. We need 2,000 copies of Dr. Jackson's book. The printing of each book (hardcover) will cost $6 U.S, for a total cost of $12,000 U.S.
Prasad Sakile
New Life Regular Baptist Society
East Godavari, AP, India