Pastor Cedric has served a Baptist church of about 120 members in Hong Kong for the past 12 years. He is our driver and guide as my coworker Michael Nolan, CFO and treasurer for Regular Baptist Ministries, and I navigate China. From Sept. 24 to 30 we are meeting with several Baptist groups to explore the possibility of expanding the influence of Regular Baptist Press International into Hong Kong and mainland China.
Two publishing houses were on our itinerary. At CCL Publishing we met its manager, Matthew. We showed him Regular Baptist Press Sunday School materials and RBP's newest resource, Kids4Truth Clubs. Curriculum is not something CCL publishes, and we asked about the need for such material in the
churches of Hong Kong. Matthew was intrigued by the Kids4Truth Clubs program, noting that he especially liked the motivation of earning badges to put on a sash. He suggested that we needed to get a megachurch on board with our curriculum and then use that connection to leverage the favorability of the curriculum in other churches.
At the second publishing house, China Alliance Press, we met Miss Chou. She looked over the curriculum quite carefully and, like Matthew, seemed more interested in the Kids4Truth Clubs material.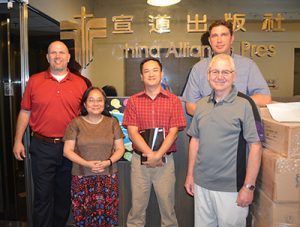 One questionable aspect about publishing curriculum in China is getting the licensing permission or ISBN for the products. The process may or may not be tedious in Hong Kong, but might be more difficult in mainland China. The thinking is that mainland China would not be willing to grant permission to a curriculum that targets children. That is not a roadblock; it is simply an issue that will have to be dealt with.
Chris Hindal
Director of Regular Baptist International