Jermi Babu is president of Hope Now Interior Ministries in India. He sends the following update concerning the construction of Immanuel Baptist Church in Kallur, India: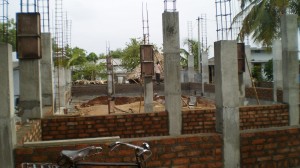 I thank God for His providence in this construction work. I trust that our God is so big that nothing is impossible with Him. I have great news to share with you about what God has done in this construction work.
When I started this construction work, we had only Rs 84,000 (approximately US $1,500) in our hands. I gave this money to the Master's hands. He blessed it and gave it back to us. So with this little money we began this work, and now we have been able to complete construction up to the roof leve
l.
We are in need of Rs 6,00,000 (US $10,000) for the roof work. I humbly request that you pray for this roof work, as well as share with churches and like-minded people so that we can join hands to see this great work be done and glorify God's name.
Jermi Babu
Hope Now Interior Ministries
Khammam District, AP, India