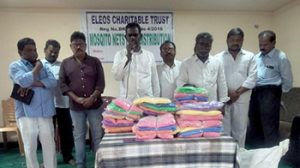 Jermi Babu Gowdiperu is president of Hope Now Interior Ministries in India. He sends the following letter.
I just wanted to share about a bad situation at present in our areas. In our place there is a viral disease called dengue fever. Every family in the village has been affected by this viral fever. Some people have lost their lives, and many people has been hospitalized.
Please pray for the Lord's peace in our places. Yesterday we declared church to fast and pray for the Lord's peace.
We are planning to have some medical camps in the villages; we are praying for medicine. We are also planning to buy some mosquito nets to distribute for the village people without religious basis. Each mosquito net will cost $5 or $6.
Jermi Babu Gowdiperu
Hope Now Interior Ministries
Khammam District, Telangana, India