Team Sumatra is a group of five professionals who are planting churches in Indonesia. "They are not a mission agency or a parachurch organization, but simply a small group of Christians seeking to facilitate church planting," says Chris Hindal, director of GARBC International Ministries, in the 2009 Baptist Bulletin article "Where in the World Is Sumatra?" "Their vision is to plant an independent fundamental Baptist church in every town in Sumatra." The team sends the following letter.
Today in Indonesia, an election commission will announce who the elected president of Indonesia is. Some people are worried there will be a big demonstration of the opposing side of the defeated. However, we hope that Indonesia accepts the results of the presidential election this year.
I always give thanks; God always opens a way to support the ministry in Sumatra. A church in Singapore has opened the door of partnership for ministries in Bandar Lampung. We hope that partnership will greatly impact the progress of the Great Commission in Bandar Lampung.
Please pray for us. Clayfield Baptist Church in Brisbane, Queensland, invited Team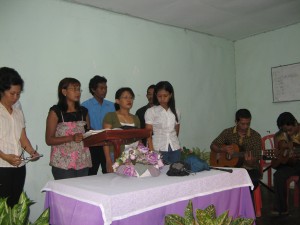 Sumatra to come bring a presentation of Sumatra Ministries. I hope the Australian Embassy granted the visa application that I requested. And the door of partnership will open larger. God willing, I will depart to Brisbane at the end of August until mid September.
Pastor Lukas
Team Sumatra
Bandar Lampung, Indonesia